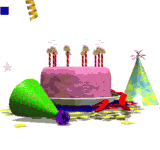 On Friday, December 11th, we took Jayden out to Red Robin for her birthday dinner. She was thrilled to be able to order macaroni-n-cheese to eat. She was even more excited (and a little embarrassed) to have "Happy Birthday" sung to her. It was worth it to her when she was able to dig in to her ice cream sundae, which she graciously shared with Tyler, Samantha, and Drew. The static electricity from the balloons also provided quite a bit of entertainment - at least for Tara, Sam, and Jay, who couldn't quite seem to keep their hair under control of contacting one of the balloons.
Jayden's Birthday Dinner at Red Robin

Drew and Jayden sharing the ice cream sundae.

Samantha and Tyler sitting in the booth after eating their fair share of ice cream.

Jay was loving all of the attention she received today.

Eating the ice cream might have been Jayden's favorite part of the meal.

Sam's hair definitely had an attraction for the balloons!