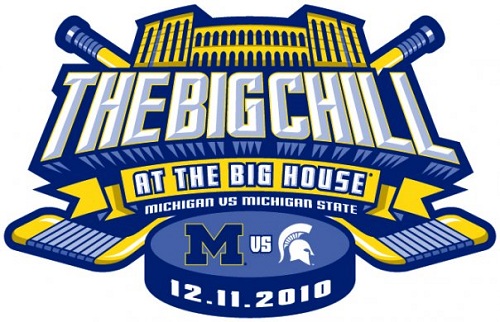 Tara & I went to a once in a lifetime even on Saturday, December 11th. We got to be part of a Guinness World Record crowd, as we were two of the 113,411 people that sandwiched into Michigan Stadium to watch the University of Michigan Wolverines men's hockey team take on the Michigan State Spartans. Not only was this the largest crowd to ever attend a hockey game, far surpassing the previous record of 77,803 in Germany, but it was also a record for attendance of any event in Michigan Stadium, surpassing the record set earlier this year of 113,090. Pretty sweet!
The best part of course was that Michigan won, blowing out Michigan State 5-0. At least one team from the University of Michigan is able to beat another team from Michigan State in Michigan Stadium! I know the football team has had their issues accomplishing this recently. Fire RichRod!
During the game we saw lots of goals, fireworks, plenty of hard checks, a few scrums, some interesting people in the stands, and of course a great game. The weather wasn't even too bad, as the rain and snow held off until after we made our way back to the truck. The temperature was in the mid-30's, but it didn't feel so bad with all of the people jammed into their seats around us. As people starting streaming out late in the third quarter and during the fireworks show after the game Tara & I noticed an increase in the wind and how cold we got. The absolute best part of the whole event? We got to sit right in front of Seth Rogan, the actor from "40 Year Old Virgin" and "Knocked Up"! OK, OK, it wasn't really him. It was the Asian version of him, though. The guy sounded just like him! If I hadn't ask Tara if the guy looked like him, and she hadn't reply that no, he didn't because he was Asian, then I would have swore on my grave that we truly had sat with a celebrity! All in all it was a great time, one which we would love to replicate again in the future.
The Big Chill at the Big House

Early game action of the Michigan-Michigan State hockey game inside Michigan Stadium.

The view from our seats (#15 & #16) in section 9, row 22.

The Michigan bench during a break in the action.

The scoreboard. Michigan was leading after the first period 2-0.

The Michigan goaltender in the net with The Big Chill logo behind him.

Arby's Curly Fries! Awesome!

This guy had a really sweet face cover!

Tara being passed through the student section! Kidding!

The University of Michigan band.

The Big Chill at the Big House flag.

Another look at the action from our seats, this time a little later in the game.

There were a couple of scrums during the course of the action today.

Tara taking in the action.

Slapshot!

Nice hat and facemask!

The official attendance: 113,411! The new Guinness World's Record for attendance at a hockey game.

Every Michigan goal resulted in fireworks on the field.

The Michigan players celebrating one of their goals.

More game action, as darkness began to settle in.

The final score was a 5-0 Michigan victory.

Please click here for page two of the photos