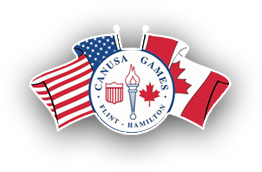 After having such a good time last year, Drew opted to try out once again for the CANUSA games. Although it was supposed to be hosted by Flint this year, the ongoing water crisis put an end to that. The games would return to Hamilton, Ontario, Canada this year. Drew was chosen to represent the United States on the U12 ice hockey team for what is the 59th Annual CANUSA Games. Drew and his teammates will be battling against a team of players from the Hamilton area in two games. The players will also be billeted, or housed, with a player from the opposing team for the weekend. Although this was the one thing that gave Drew the most pause about participating last year, he enjoyed his experience so much that he didn't hesitate at the chance to go back again this year!
Although it isn't a certainty at the time of this writing, there is a possibility that some of the American U12 players will be asked to help round out the US U10 team, which had some trouble filling out their roster. If that is the case, you can expect to see plenty of information about those games here as well!
Opening Ceremony - Here are the pictures from the opening ceremony that took place on August 5th.
Closing Ceremony - Follow this link for pictures from the closing ceremony that took place on August 7th.
CANUSA Games - United States of America

Date

Games

Location
Time
Result
Score
Record
Aug 05
Game 1 - at Canada
Mohawk 4
4:15pm
L
8-1
0-1
Aug 06
Game 2 - at Canada
Mohawk 4
9:30am
W
6-5
1-1
Aug 05
U10 Game 1 - at Canada
Mohawk 4
5:15pm
L
7-2
0-1
Aug 06
U10 Game 2 - at Canada
Mohawk 4
10:30am
W
2-1
1-1